Sam Smathers is a big believer in the importance of location in real estate. "I think I have the most valuable property in town because of that," he said, with a finger pointed at the Athens high school football field across the street.
"I've been watching games here since I graduated," said Caleb Moon, one of the many Athenians who enjoy the tailgate in Smathers' garage for every Athens football game. Smathers spends most autumn weeks thinking of the next food to prepare for the affectionately named "Dog Pound."
"I've made chili, smoked ribs, jambalaya, you name it," Smathers said, pride gleaming across his face.
"The food is phenomenal," said Matt Frazee, who visits the garage before every game.
The pride for Smathers comes from his deep connection with Athens High School. His entire family went to school there. He was a youth football coach in the district for many years, even coaching Athens football legend Joey Burrow. Burrow is now the starting quarterback for the LSU Tigers.
"Joey always swings by when he's in town," Smathers said. "We couldn't be more proud of him."
The joy Smathers gets from Athens football can be seen easily by looking around his garage. Athens football memorabilia covers the front wall of the garage, with pictures from nearly every season this past decade. Lots of those memories coming from the teams led by Burrow. If asked, Smathers can point at every picture and describe the scene as if it was happening in front of him. He usually ends his stories by flashing a sly smile through his thick beard.
"No better place to watch football than right here," Smathers said and many Bulldog fans agree.
In a poll placed in the WXTQ Sports Facebook page, which has nearly 3,000 members, respondents were asked if they had ever been to the "Dog Pound." Early returns on the poll show that 79 percent of respondents had visited the tailgate area. People also had many differing opinions on the best food they've ever eaten there.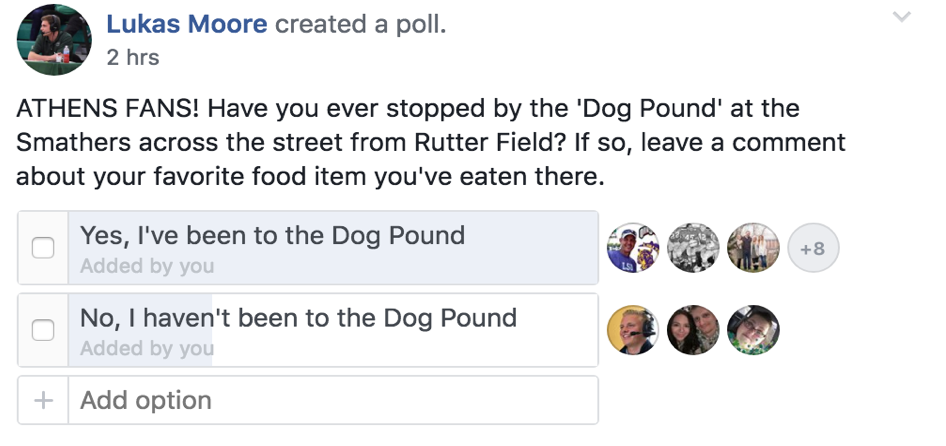 Think you know Athens football? Try out this interactive quiz: https://discover.apester.com/media/5c7c8945f3cfde0030a84b28?src=link
For the record, most Athens fans preferred Smathers' chicken wings.