After interviewing local Athens band, 90'S KIDS, the only word I can come up to describe them is humble. Consisting of three members, Corey Mouch, Robby MacAskill, and Matt King, they ooze a sense of casual confidence.
90'S KIDS brings a sense of nostalgia for any kids born in the 1990s but goes beyond stereotypical imagery and references. From incorporating inspiration from their own family and friends, the band's lyrics are actually relatable and far from the angsty grunge that seemed to dominate the '90s decade.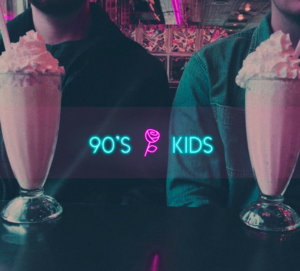 "Instead of playing video games, and doing stuff like that, we get to do band things," MacAskill said. "Looking at it as less of a chore, and more as a hobby, it makes it easier."
For a college band, their dedication to a hobby-turned-craft is quite incredible. While they claim they're just friends enjoying music together, they are determined to continue creating a popular track-list until maybe, they make it "big!" Although the Athens local music scene is eclectic, 90'S KIDS resembles music that is found on the mainstream radio but still authentic enough to even win over the most indy listener.
---
90'S KIDS Interactive 8-question quiz —————> Can you get 8/8? Play here.
---
This week I had the opportunity to sit down with Mouch and MacAskill, two friends turned band-mates who have been hanging out since their freshman year of college at Ohio University. The band originated with Mouch who decided it was time for a new adventure following a previously dissolved band. He looked to King with an idea, and he was thrilled to have a new creative outlet.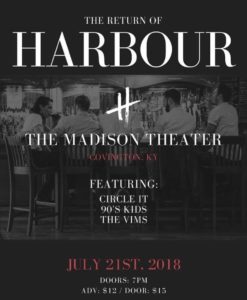 "I wanted to create something new and fresh and could relate to a lot of people," Mouch says. "I recorded one song, and then I got a couple of friends together who believed in the song and believed it could be expanded into something bigger."

 
After MacAskill attended frequent 90'S KIDS jam sessions, the duo became a trio. From song writing to producing to just playing instruments, these men make creating a band look easy. From the smooth alternative pop sounds to the excitingly fresh aesthetic, 90'S KIDS is well on its way to being one of Ohio's up and coming breakout bands of the year.
With over 3,000 followers across social media and music-streaming platforms, and over 7,300 monthly listeners via Spotify, 90'S KIDS has come a long way in one year. The band has tours coming up in several Ohio cities: Cincinnati, Columbus, and Cleveland. They also are saving a loving spot for their college home in Athens, Ohio.
"I think that they're trying to incorporate a style that's been pretty popular as of recently and I think they're doing a good job of it," roommate and fan of Mouch and MacAskill, Grant Schneider said." Corey and Robby are always doing something [with 90S KIDS]".
From personal experience, being in the audience of a 90'S KIDS concert is an exhilarating experience. For an up-and-coming band, it's amazing how many fans already know all of the lyrics and attend the concerts. It's lively and interactive between the audience and the band-mates. But if there's anything that the band would change, it would probably be less profanity at the request of Mouch's mother. Jokes aside, the band has found their voice in the saturated chaos.
---
Journalism 4870 Podcast:
In this week's podcast edition of Journalism 4870, I take a dive into all of the questions 90S Kids fans are wondering about. The band is set to go on tour through Ohio and debut their new single Adeline in the coming weeks! Have a listen by clicking on the player above or here.
---
90's Kids in 360-degrees:
To catapult yourself into a 90S KIDS Concert, check out these three performances in 360-degrees virtual reality:
(CLICK SONG TITLE FOR 360-VIDEO)
---
Social Media Reviews from the 90S KIDS fans:
Love these guys. 💘 https://t.co/8gSfiZiz0W

— lex (@lexiepritchard) February 19, 2018
Hey ma. Your boy is a movie star…. make sure to check out @90sKidsBand and buy those tickets! https://t.co/7UgSvUol8O

— Babs (@NateBabner) January 19, 2018
If you're not keeping an eye on @90sKidsBand then you're doing it wrong. Two singles out, 2/2 future hits. https://t.co/Qb3b8pW1PI

— sam (@Sam_Holmesy) January 23, 2018
i highly recommend drinking wine and listening to this song. stoked for the video/to be slammin the tubs with these dudes at their shows. https://t.co/3HxCgB645H

— walker (@walkeratkinson1) January 18, 2018
---
What do you think about 90S KIDS? Leave a comment or suggestion for the band below.