Ironically set between a chain steakhouse and a movie theater on East State Street, the Athens Farmers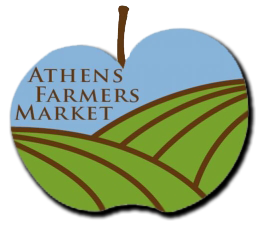 Market has developed into a community staple and a destination for foodies throughout Appalachia. When the market opened in the early 1970s, it was comprised of only three farmers. Since then, it has grown tremendously.
Click HERE for a virtual representation of the farmer market with interviews of vendors
A study conducted by the Voinovich School of Leadership and Public Affairs perfectly portrays the popularity of the market. When the study took place, the population of Athens was 23,832, and the average Saturday attendance to the farmers market was over 2,500 people. The farmers market in Cary, North Carolina, which has a population of 135,234, only had an average attendance of 843 every Saturday. In Leavenworth, Kansas, which has a population of 35,251, the average Saturday attendance of the local market was 832.
The market continuously attracts people through its endless varieties of homegrown products. The vendors and customers seem to be just as diverse as the goods. The market has developed into a staple for Athens culture. Whether the purpose is grocery shopping, people watching, or simply going to socialize, Atheniens make it part of their routine to visit the farmers market on Saturday mornings.
For those who believe in supporting local agriculture and business growth, the Athens Farmers Market is the place to shop. There is nothing glamorous about the scene except for the sheer joy on the customers' faces. The market, on a small scale, represents the culture of Athens. It's an event and a perfect portrayal of a small-town community bonding over something they are passionate about. The hardworking farmers and enthusiastic citizens of Athens are what truly make this farmers market a representation of a selflessly determined and growing small-town culture.
---
Engagement is important for us here at ValleyReality. If you have comments, questions, or just want to share your farmers market experience, send a message to our Facebook!