Filming and working with VR technology sounds incredibly impressive, giving it an instant "ooo" and "aaahh" appeal. As of right now, VR is still not incorporated and streamlined into society at a level where it no longer seems fancy.
Though there are dozens of comparisons I could make, the first that comes to mind is the invention and release of the first iPhone. People who had those when they first came out seemed like tech wizards, at least to my young eyes. In my personal circle, it was only my older brother's cool friend who built computers on the weekends that had one. Surely it was only the geekiest Silicon Valley geniuses that could use it, not some commoner like myself.
Well, no actually, as it turns out.
Though I can't understand simple math and the thought of engineering makes me faint, I can still use an iPhone just fine. New tech seems intimidating and elite simply because of its unfamiliarity, not its inaccessibility.
For our senior capstone class (for which this website was designed and this blog post is being written), our focus is working with VR tech and figuring out ways to use it for the journalism field. I came into this class blind, not knowing how badly I might fail to comprehend the complexities and magical technicality of filming in 360. But now that I'm on the tail end of things, I think my nervousness was a bit unwarranted.
Insta360 produced the equipment we were given to work with for the class. The Insta360 ONE camera itself was surprising small, just a simple cylindrical device that I could hold comfortably in my hand. There was a plug in at the bottom of it that I could insert into the charger port of my phone. There was also a place to screw in a tripod for hands free shooting. After turning the device on, I could simply bring up the InstaONE app on my phone and voilà! I was instantly able to film 360 videos and snap 360 pictures that saved directly to the camera's SD card.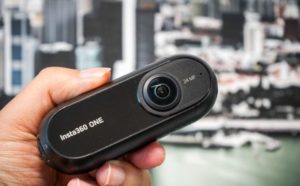 To be honest I was amazed it was so simple. A little phone accessory was so user friendly and straightforward that I was shocked. And the results were pretty impressive. No, it wasn't feature film quality, but it was still a lot clearer than I predicted. Experimenting with shots and scenes became super fun, with the results often impressing me.
What I'm trying to say is this: Don't be intimidated by VR. I firmly believe that it's something anyone can get the hang of pretty easily as long as they are willing to invest the time and money. So get out there and start shooting!