Forget the hot and crowded Ping Recreation Center; there's a better way to get a workout. Behind Bird Arena and attached to Grover is the Ohio University Aquatic Center, also known as the OUAC.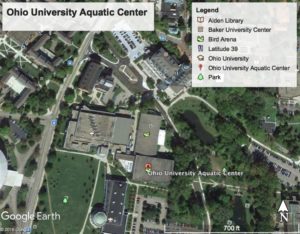 The Olympic-sized pool has 22 25-yard lanes, 10 50-meter lanes and a pair of one-meter and three-meter diving boards. Approximately 645,468.75 gallons create 12,300 square feet of surface water. In the ceiling above the water are 13 wooden timber-beams of Douglas fir, Western Larch, Southern Pine, and California Redwood. The pool is free to use for any Ohio student. Faculty and other members of the community can purchase affordable daily, semester, or annual pool passes.
In addition to daily-lap swim hours, the pool hosts a variety of classes and activities. Swim lessons are popular, as well as birthday parties, aqua aerobics and swim team/water polo practices.
Deep Water Aqua fit is the perfect way to let out some last week of class stress! Come out today from 5:30 – 6:15 p.m. pic.twitter.com/kRUmw0fqHa

— Ohio University Aquatic Center (@OU_Aquatics) April 26, 2018
Ohio University senior and pool supervisor Elena Patz said she loved her job working at the pool.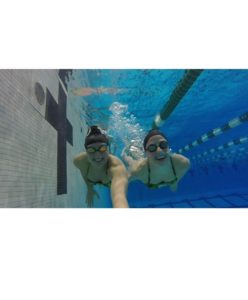 "I love how diverse of an environment it is," she said. "There is a perfect balance of students, faculty, and families that take advantage of the pool."
While visiting the pool, I ran into Emily Ortner. She's finishing her junior year and competes on the Ohio University Swimming & Diving team. It's hard to find someone who uses the pool more than her!
"I love the OUAC. I'm at the pool swimming probably 12 times a week," Ortner said.
Ohio University Psychology Professor Ariel Hodges teaches swim lessons at the OUAC and has helped dozens of children learn to swim.
"I encourage all parents in the Athens County area to sign-up their children for swim lesson through the OUAC Learn to Swim program. It's one of the premier swim lesson programs in Southeast Ohio," Hodges said.
---
Follow the team on Twitter ( @OU_Aquatics ) to stay up to date with their hours and events.
Make sure to save our summer pool hours. These hours will start May 7, 2018! pic.twitter.com/wJUlJCdeRX

— Ohio University Aquatic Center (@OU_Aquatics) April 25, 2018