With the convenience of how portable and durable VR 360 cameras are today, you can practically shoot anywhere. However, some events and environments require some caution when filming in such a public setting. Personally, I found this apparent when visiting a 90'S KIDS concert at local Athens bar, The Union.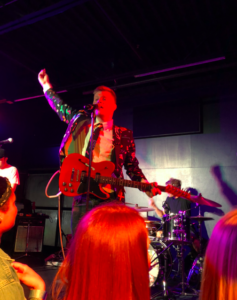 The concert began around 9 p.m. on March 22, after watching hundreds of students stand in line stretching around the block. Everyone was waiting to see Athens' music scene favorite, 90'S KIDS, a new pop-alternative band consisting of three members: Matt King, Corey Mouch, and Robby MacAskill.
Though eager to see the show, I was in attendance to see if the live performance would transfer to VR 360 showing the same excitement and energy as if you too were standing in the audience. Being at a bar, I couldn't produce the same feeling of intoxication that everyone's rum and cokes were producing; however, I could hopefully create the same intoxication of vibrant visual energy.
I learned three things while filming VR in a live concert venue:
Location is everything – I planted myself in the middle of the crowd and within a foot of the stage. This way I had a split dynamic shot of both the audience and the performers. This created a wonderful visual of the interaction between both parties and by standing within the crowd, viewing footage later would feel like you were actually there.
With location comes danger – Crowds are unpredictable and often times wild. There was a lot of jumping, pushing, shoving, and a slew of drunk students enjoying their night. But for me, filming was a challenge because having a tripod didn't work in this type of environment so I was holding the camera as still as I could surrounded by movement. This showed to be difficult.
Lights and Sounds are 50-50 success – The Union visually was awesome for the 90'S KIDS set, very moody and complimentary of the visual look of the band. However, spotlights moving over the crowd and onto the performers was difficult to combat as it is enemy number one to the camera trying to capture the footage. Also, with such loud performances comes distortion on the actual recording as the sound levels were too far surpassed to always get a clear playback. Despite all of this, there were many great moments captured that couldn't have been achieved without the strong sound system and ample lighting in the venue.
Overall, 90'S KIDS is a great budding band that has already released a few singles. They almost have 1,000 followers on Instagram and are starting to gain a following at Ohio University. More background story and music is to come so stay tuned!
Check out their music here.